Welcome to

Killmore

 
Pest Management And Control.
"Over 15 Years In Business"
Areas We Service 
Eastern Suburbs, South Sydney, Inner West, Sydney city and North Sydney with same day service for these areas. We also service the following areas; Sydney, Surry Hills, Moore Park, Paddington, Rushcutters Bay, Chippendale, Pyrmont, Haymarket, Darlington, Broadway, Alexandria, Erskineville, Zetland, Kensington, Bellevue Hill, Bondi, Bondi Junction, Tamarama, North Bondi, Dover Heights, Rose Bay, Double Bay, Vaucluse, Watsons Bay, Diamond Bay, Bronte, Queens Park, Birchgrove, Rozelle, Lilyfield, Forest Lodge, Annandale, St Peters, Enmore, Marrickville.
Reasons to use Killmore Pest Control:
Our policy is Simple, right equipment right advice at an affordable price.
Our great team of 4 technicians are ready, qualified and experienced in all aspects of pest management to do any pest control job thrown our way and all work is guaranteed so if we don't get it right the first time we will return.
The size of business ensures that we can give you the customer service you deserve and to ensure all our work gets conducted in a very prompt manner.
We work with over 45 agents and many strata companies and are very proud of our references so please feel to ask.
We comply with OHS safe work method statements and are certified with Trades Monitor.
We will beat any reasonable price and provide 10 month warranty on most of our treatment.
We also welcome the opportunity to provide a fixed quote for your property needs.
Please call for a fixed quote that has a safe and proven treatment method that works each
time.
Please feel free to ask for our insurances or licences.
Kind Regards
Ruben Valencia
Director
Killmore Pest Management
0433 545 566
Submit Your Details For A  
FREE Pest Control Quote! 
"We'll Beat Any Reasonable Quote"
Pest Control – Bed Bugs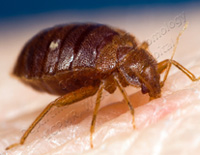 Adult bed bugs are wingless insects, roughly oval in shape, 5-6mm long when fully grown, and are fast runners. They are rust brown in colour and change to a deeper red brown following a blood meal. The juvenile stages, called nymphs, tend to be paler in colour and from 1-4mm in length.
For more about Bed Bugs
How we solve your pest control problem
In solving and/or identifying your pest control problems we believe there is a process that needs to be followed. Firstly we start with the pest identification stage. This is essential because we need to determine exactly what your pest problem is so that our licensed Pest Control Technicians can recommend a solution suitable to your needs and the requirements of the environment.
Part of our pest control service is to look at your overall pest problem within your environment, and advise you if there are other pests that you should be made aware of, and brought to your attention. Our licensed Pest Control Technicians will discuss with you a pest control solution, and program, that will enable you to be in control of what is happening in your home and/or the environment in which you are working and/or living in.
You will be in control of what treatment is to take place in your home and surrounding environment, and the type of pest control system you require to eliminate your problem areas.
Pest Control – Ants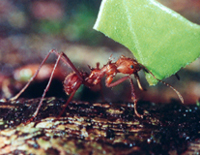 Ants are social insects which live in nests. The nests vary in size depending on their age and the species of ant.
For more information about Ants
The Pests We Treat
We specialise in the treatment, eradication, and management of bed bugs.
Are you going to allow your business to be affected by these insidious and potentially harmful insects that have now reached palague proportions across Australia. More information
We offer a complete pest control service however there are some pests that require specialised treatment. For example, to treat fire ants, the pest controller needs to be registered with the state government. We also offer a 9 month guarantee on all pest treatments.
We do treat all the normal household pest such as:
Pest Control – Wasps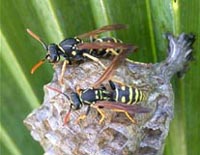 Wasps are a diverse group of insects. In Australia alone there are over 12,000 species.
For more information about Wasps
Pest Control – Cockroaches
Half of the cockroaches in Australia can be found in the Blattidae family which includes both the native and introduced species
For more about Cockroaches
Pest Control – Termites
Termites are an essential part of our pest control services. They are one of the most destructive pests to a home or building owner. More often a large extent of damage is carried out, without the home or building owner knowing.
How can Termites be controlled: By far the best way of controlling termites is seeking professional help from our licensed Timber Pest Management Technicians, who are fully trained to provide you with a termite management solution to suit your requirements and needs, and that may be:
Chemical Barrier System.
Physical Barrier System.
Reticulation Systems.
Monitoring and Interception Systems.
Please click for more information about:
Chemical Barriers |  Physical Barriers | Reticulation Systems | Monitoring Systems

Pest Control – Termites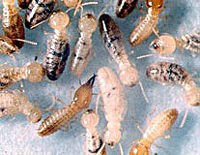 Termites (also known as white-ants) are all over Australia causing millions of damage to homes everywhere they can find food.
For more about Termites
Insurances
QBE.
Allianz.
Trades Monitor.
Pre-purchase Timber Pest Inspections
Before you buy a home, it is recommended that you have a termite inspection report prepared to make sure the property is not infested by termites or other timber pests.
Timber pests can travel 50 metres underground, so fencing checks are necessary in a thorough inspection. A thorough Termite inspection and report will inform you about any current infestation, previous damage, areas likely to be infested in the future, and areas where additional inspections are recommended to maintain effective physical and chemical timber pest barriers.
Commercial Pest Control Treatments
We are equipped for and experienced in commercial pest control treatments. For us to be better able to understand your requirements, please call us so we can discuss your needs and provide you with a quote.
To book a pest control treatment or make an enquiry, click here
Pest Control – Spiders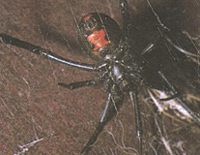 We treat all kinds of spiders including Redbacks, White-tails, Funnell Webs, Mouse Spiders and Black Widows.
For more information about Spiders

Chemical Supplier

Australian Environmental Pest Managers Association

Trades Monitor verifies, maintains and keeps current the following information (and more) on your contractors to ensure contractor compliance.
Public liability insurance.
Professional indemnity insurance.
Work Cover insurance.
Licences.
Contractor Registrations and ABN.
Contractor Safety Compliance.